Congratulations!
Your Order Is Almost Complete. But before you get started…
Step 3: Access Pixo Blaster
Upgrade Pixo Blaster To PRO…
TRIPLE YOUR SPOKEPERSON

VIDEO COLLECTION




AND UNLOCK ALL THE

PRO FEATURES!

OUR STUDENTS Saw Higher Conversions And More Traffic
After Using The Templates From Pixo Blaster PRO
Watch The Following Video To Find Out Why..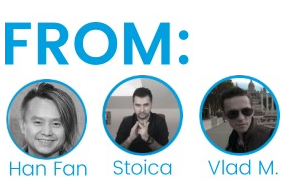 Thank you for your purchase!
You've​ ​made​ ​a​ ​very​ ​smart​ ​choice,​ ​which​ ​already​ ​puts​ ​you​ ​leaps​ ​and​ ​bounds​ ​ahead​ ​of​ ​the competition.
And​ ​make​ ​no​ ​mistake,​ ​the​ ​version​ ​of​ ​​ ​Pixo ​Blaster​ ​you​ ​just​ ​purchased​ ​is​ ​extremely powerful,​ ​will​ ​help​ ​you​ triple your conversions,​ ​you'll​ ​get​ ​more​ ​traffic, more leads​ ​and make​ ​more​ ​sales…
However…we've​ ​got​ ​a​ ​very​ ​special​ ​upgrade​ ​for​ ​you​ ​that​ ​will​ ​take​ ​things​ ​to​ ​the​ ​next​ ​level.
I can't believe Pixo Blaster PRO contains sooo many new templates. I now have a template for any niche I can think of!
I actually got 298 new subscribers in my email list by using the video from Pixo Blaster Pro

Beny L. – Video Marketer
How can Pixo Blaster Pro have such a low price?? That was my first question.I am already using videos with the new actors that come in the PRO version.
And I must say, the watermark feature is a must have, so we can brand videos with our own company!

Caty E. – Ecom Store Owner

Having the option to customize everything is worth every penny! I love the pack of lower thirds that come in Pixo Blaster Pro.
It's a lot easier for me to sell my videos to local clients, because I can customzie them 100% to fit their needs
Marius C. – Local Business Owner

How​ ​would​ ​you​ ​like​ to have the power to
PERSONALIZE YOUR VIDEOS
AND INCREASE ENGAGEMENT?
Increase interaction with your videos by branding them!
You'll be able to add
customizable lower thirs and watermarks
to your pixo videos!
We give you 100% customization and personalization freedom!
But not only that…maybe you'll want to add you OWN custom INTRO VIDEOS…
Guess what… in the PRO versions you can add your custom intro greenscreen videos too!

Do you want to put
Pixo Blaster on STEROIDS?
30
Pro Upgrades Remaining

Pixo Blaster PRO Is Packed With Features And Templates
That Will Make Your Video Convert Better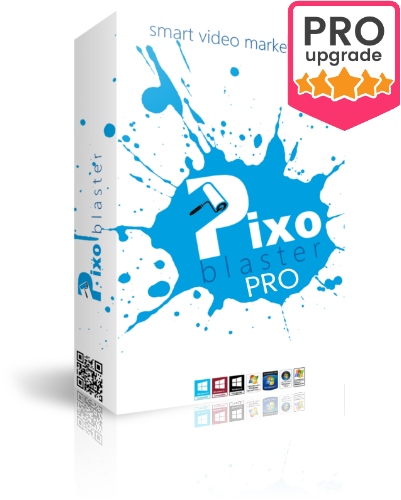 Check out some of the PRO version features:
Get access to 200 new templates from various niches

4 new actors that will increase your viewer engagement

Add lower thirds to your videos

Watermark your videos to prevent stealing and to get brand awareness

Add custom intro/outro videos and remove the green screen from them.

Get access to new background and audio elements that you can use in your videos

Are you ready to put Pixo Blaster on STEROIDS?
Upgrade To Pixo Blaster PRO
And you'll get instant access to 200 New Templates and new
Customizable Options:

This videos alone cost well over $5.000 and you get them INSTANTLY after you upgrade your license!
Diversity is KEY
when talking about conversions and viewer engagement.
By upgrading to PRO version you will be one of the
FEW PEOPLE
who will get access to  the new
200 TEMPLATES
and 30 new niches!
Be one step ahead of your competitors and start using all the unique intros/outros from Pixo Blaster Pro!
Check Out Some Sample Videos From The PRO Collection:
+194 More Videos In PRO Version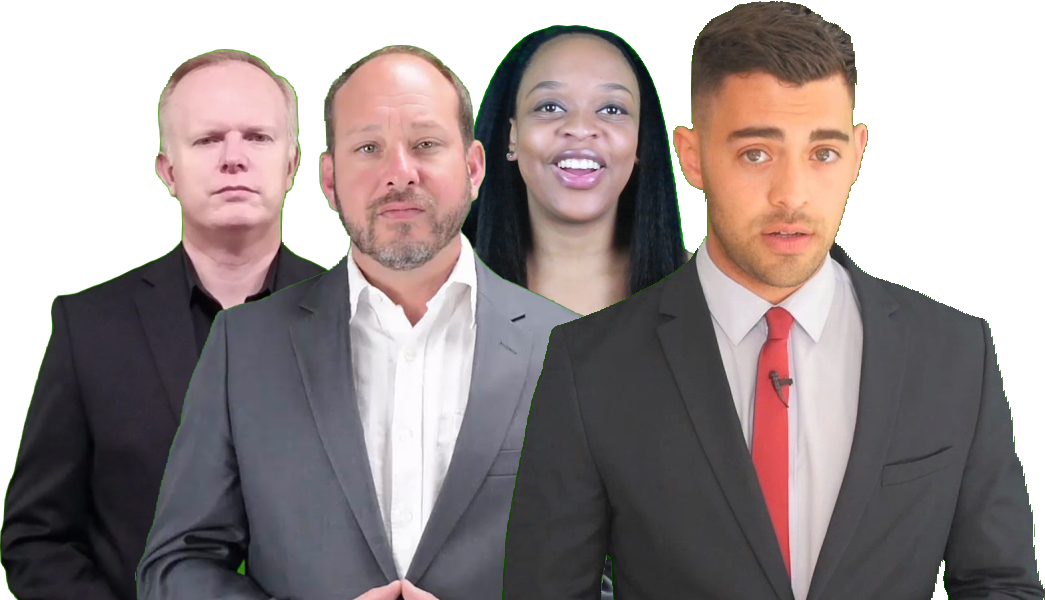 Get Access To 4 New Actors!

It is very important to present your offer and products by using different actors.
That's why we offer you a variety of actors with different accents from UK accent to Texan, to American/Italian.

But​ ​that's​ ​not​ ​all! Branding videos is very important,
that's why in PRO version you can:

ADD WATERMARK & LOWER THIRDS

With only a few clicks you can
brand your videos
by using
Watermarks
, to prevent people from stealing them or simply to let people know the video is yours.
Also, you can add Lower Thirds with custom text at the bottom of each video. It's the best way to increase your leads and CTA.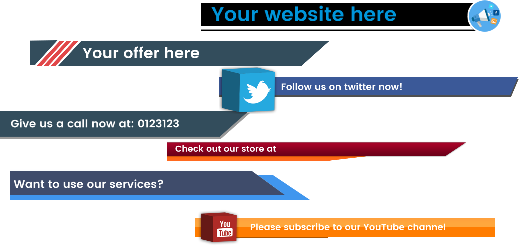 Add Your Custom GREEN SCREEN VIDEOS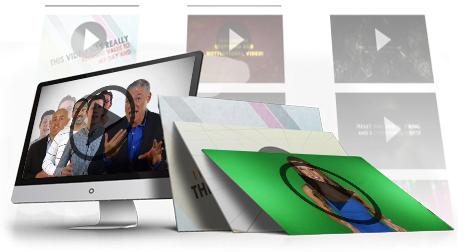 Do you think your Pixo Blaster Template collection is not enough? Or you simply  have an
existing green screen video
that you want to use?
We've got you COVERED! You will be able to add your custom green screen videos and replace the green screen with any background that you want!


So,​ ​what's​ ​it​ ​gonna​ ​be?
Upgrading to PRO will cost you less than the price of 1 single intro,
but you will get 200 intros and the other PRO features!
Full 30 Day Money Back Guarantee
Don't forget, this upgrade is only available right now and expires if you leave the page. Give the PRO version a try with NO risk.
If it doesn't make you money(highly unlikely)… just let us know we'll refund 100% of your purchase today, no hassle and no hard feelings.
You have ZERO risk here!
So let's recap what you are getting today when you Upgrade Pixo License to PRO: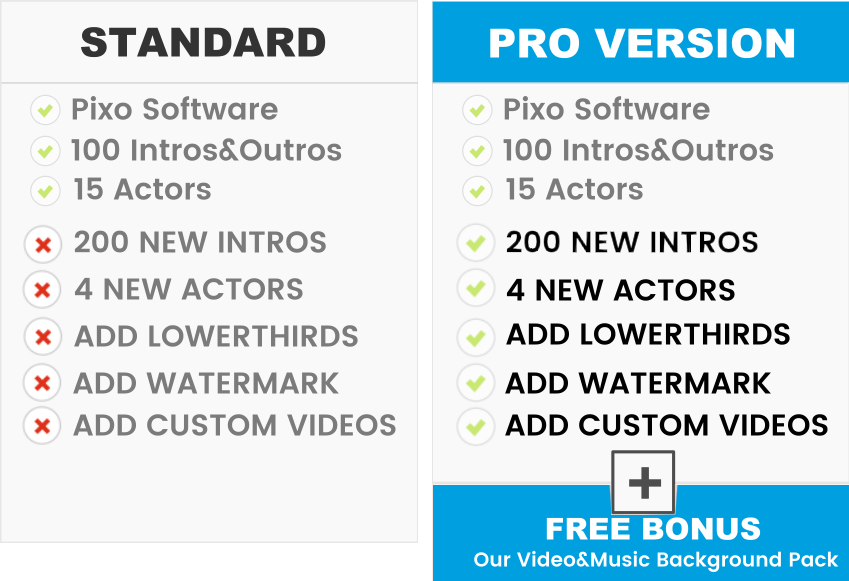 This is a COMPLETE NO BRAINER DEAL
Here's​ ​your​ ​ONE​ ​CHANCE​ ​to​ ​upgrade​ ​by​ ​going​ ​PRO,​ ​at​ ​a​ ​fraction​ ​of​ ​what​ ​it's​ ​really​ ​worth. 
This​ ​module​ ​is​ ​powerful,​ ​and​ ​rightly​ ​so,​ ​not​ ​everyone​ ​should​ ​be​ ​granted​ ​access. At​ ​least​ ​not​ ​at​ ​this​ ​price.
If​ ​you're​ ​serious​ ​about​ ​success​ ​and​ ​like​ ​having​ ​as​ ​much​ ​data​ ​insight​ ​as​ ​possible​ ​then​ ​this should​ ​be​ ​an​ ​easy​ ​decision​ ​to​ ​go​ ​ahead​ ​and​ ​click​ ​the​ ​buy​ ​button.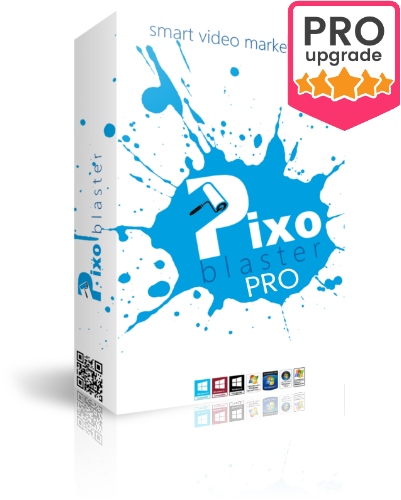 Are You Ready To Triple Your Template Collection And Get More Customization Options?
The PRO upgrade takes Pixo Blaster to the next level and makes it so much more powerful…
And as our valued customer, you'll lock-in a MASSIVE discount on this when you upgrade right now… 
Upgrade Your License RIGHT NOW!
30
Pro Upgrades Remaining

This Is An Upgrade For Pixo Blaster! You Need To Purchase Pixo Blaster Standard Before You Can Upgrade

OUR STUDENTS Saw 300% Higher Conversions
And More Traffic After Upgrading To PRO 
Thanks But NO THANKS!
I'm not interested to triple my template collection, and I do not want to add lower thirds and watermarks to my videos and get higher conversions…